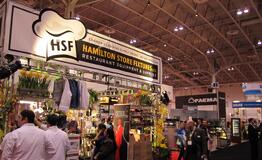 Blue Link attended the Canadian Restaurant and Foodservice association (CRFA) tradeshow this past Monday. The tradeshow had an array of representatives from across foodservice industries ranging from delightful food vendors, food equipment distributors, food storage suppliers, and innovative solution companies.
Honorable mention goes to the following exhibitors whom we had pleasant visits with:
Through many intriguing conversations with exhibitors, it became apparent that many small to medium sized companies were not currently taking advantage of proper foodservice software.
Here are few benefits of foodservice software and how it can help your business:
1. Enables Growth
Having the proper business software in place makes it much easier for your company to handle growth. Start on the right path by choosing an integrated ERP system which can handle an influx of transactions as you grow. Don't take our word for it; Hear what Toppits, who was at the CRFA show, has to say about our software.
2. Being Proactive rather than Reactive
When you hold perishable inventory items, it's important to have a system that can keep track of your inventory. Product recalls are a food distributor's worse nightmare. With a proper inventory management system and utilizing foodservice modules such as lot tracking, food distributors can maintain peace of mind.
3. Better Reporting and Analytics
How much inventory do I carry, is it enough or too much? Knowing the right amount of inventory to have in stock is a tricky question to answer. Having a sophisticated inventory management system for food distributors can provide intelligence on the health of the business. Sophisticated reporting features enable in-depth analysis of inventory stock, turnover, backorders, and other essential measures that are vital for everyday business decisions.