WHAT IS BUSINESS INTELLIGENCE?
When you think about Business Intelligence (BI), a number of things may come to mind – everything from analytics, data mining, event processing, benchmarking, performance management, predictive analysis and reporting falls under this umbrella term.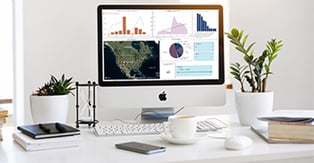 Download Blue Link's Business Intelligence Whitepaper to learn about what Business Intelligence (BI) encompasses, why it is valuable for companies in general, and specifically how it adds value when incorporated into an ERP system. As a small or medium-sized business, there are some common barriers that you may face when trying to implement BI. Take a look at this whitepaper to understand the 4 stages that successful BI implementation relies on:
Information

Technology

"Intelligence"

Implementation & Communication
Download our "Using Business Intelligence Tools to Drive Decision Making" whitepaper to learn more about the benefits of BI, and the tools that will be valuable for your company.